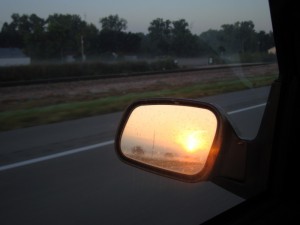 Gavin and I met over a game of Nails at our mutual friend Katie and her husband Will's Oktoberfest party in Bernardsville, New Jersey. Nails is not your typical outdoor party game, but for those with a backyard and a sizeable tree to fell, I'll quickly explain. Each player starts with a nail, tapped into a tree stump just enough so it stands up straight. Players take turns doing 'tricks' with the hammer, getting a certain number of hits as a result. If you throw the hammer in the air and catch it by the handle, you get one hit. If you throw it under a leg and catch it, you get two hits. If you throw it behind your back and catch it, you get three. You use your hits against other players' nails, the goal to have yours be the last one standing. I was terrible at throwing the hammer, but in a not-so-vague attempt at flirting, I used all the hits I could get against Gavin's nail. It irritated Gavin more than it intrigued him, but he did notice my long blonde braids. Which were actually part of my German girl costume. So you can imagine his surprise when I gave a sly smile and pulled off my cheap, plastic wig to reveal a mop of dark brown hair underneath.
At the time, I lived in Washington, DC and Gavin lived in San Francisco. We managed a few back and forth trips through the holidays, and as things started to get serious in January, Gavin decided to move to New York. That had been his plan for a number of months before he met me – in order to be closer to his family and potential job opportunities – but now that we're married, I won't pretend I didn't have anything to do with it.
In the fall of 2008, I'd taken six weeks off work to drive cross country and back, visiting friends, national parks, monuments, and roadside attractions. I loved a good road trip. So when Gavin mentioned driving his car from San Francisco to New York, I couldn't help but want to come along. It was only when I was 30,000 feet over the Rockies that I started to have doubts. I had loved driving cross country by myself, but would I enjoy it with someone else? With Gavin? We had never traveled together, and as I learned on a European backpacking trip in college, it could either go amazingly well or horribly wrong. My palms started to sweat as I thought about how miserable it would be if it didn't work out, spending 3,000 miles and a week and half stuck together in the front seat of a compact car. The awkward silences would kill me. I took a swig of my too-small airplane cocktail and prayed to the relationship gods for safe passage. For better or worse, at that point, I knew this trip would be a turning point in ours.
I landed at SFO around ten in the evening, and the road trip began directly from there. Gavin had spent the last few days boxing up, shipping, and selling the contents of his apartment. It was no longer fit for us to spend the night there, not that it ever was. I had heard stories over the last few months and wished I could have experienced Gavin in his native habitat. I would learn soon enough about Gavin's live-in habits, the mysterious bottle caps, quarters, and socks littered about the apartment, but I still wanted to see it. The working TV standing on a plastic cooler, the broken TV hiding in the corner, the Gavin-shaped divot worn into the side of a faux-leather couch, even the dining room set bought on a whim when guests came to visit one weekend.
Instead, we drove south on the 101 to San Jose, spending a night there, before setting off towards Las Vegas in the morning. There was something awkward and exciting about that first night. The anticipation was palpable, the future unknown. We were going on our first adventure together. We ate a late dinner at a local bar grill, and discussed where we wanted to stop on our trip. Vegas, Austin, and New Orleans were definites. The rest we decided to leave to chance.
I am normally a sound sleeper. When I was five, the fire department came to our house to put out a chimney fire, and I slept straight through it, sirens and all. But this night, you would've thought Santa was coming in the morning, or I'd just watched the latest remake of the Texas Chainsaw Massacre. I couldn't wait for our adventure to start.
We woke early and started the almost eight hour drive to Vegas. Before we could get settled in our seats or unscrew the tops of our road sodas, we spotted flashing red and blue lights behind us. Something you should know about Gavin is that he drives fast. It's not a want, but rather a subconscious need, something that is so innate to who he is, he has to set alarms in his car to beep if the car goes over 100 mph. It can happen just like that. He'll be focused on the curves of the road and the journey ahead, and before you know it, he's driving 30 miles faster than the law thinks is appropriate. He's also way too honest.
The officer walked to the side of the car as Gavin rolled down his window. 'Do you know how fast you were going?' he asked.
'Probably 90,' Gavin said, furrowing his brow in concentration. 'Maybe 95 when you clocked me.'
'I got you at 93,' the officer responded. 'Do you have a reason for driving nearly 25 miles over the speed limit?'
'No,' Gavin said. 'I really don't.' I could've smacked him for his honesty.
That was speeding ticket number one.
The approach into Vegas by car never ceases to amaze me. Desert, desert, desert, then boom, the skyline starts to appear. Then you see a gas station with a casino, a strip mall with a casino, then resort casino, restaurant casino, bar casino. By the time you're driving down Las Vegas Boulevard, you don't know whether to laugh out loud or get out of the car and run away. Vegas is a fantasyland for adults, Epcot Centre with just the right about of sex and skank. I have to say I love it. If you don't, you're just fooling yourself.
As we drove down the strip, we debated on where we wanted to stay for the night. In my past visits, I'd always stayed on the strip, but after a quick Kayak search, we decided on the Hard Rock, just off the strip and beautifully priced at $70 for the night. We parked in the garage and took our bags inside to check in. Gavin reached in his pocket for his ID and credit card, put could only find the Visa and a crumpled receipt. Somewhere between the San Jose speeding ticket and the reception desk at the Hard Rock, his ID had gone missing. Gavin frowned, wrinkled his brow.
'It must be in the car,' he said, and we retraced our steps back to the garage. We searched the car back to front to back, and throughout it all, Gavin kept his cool. I couldn't help but be impressed. I would've been flipping my shit, wondering where it'd all gone wrong. Yet here he was, getting a speeding ticket and losing his ID in the same day, and just rolling with it. No panic attack, no angry silences, no exasperated sighs and 'why me?'s. At some point, he shrugged, pulled his passport from a box on the backseat where his important papers and tax returns were traveling, and we went back inside to check in.
After freshening up, we hit the casino floor for some blackjack. I'd played a few times before and thought I had a basic understanding of the rules of the game. Ha. In that first hand with Gavin I realized I didn't know anything at all. Gavin was the expert. The guy had spent a summer in college playing blackjack at Foxwoods three days a week with the AARP crowd. He'd kept a notebook, writing down all of his expenses and wins, walking away each week with more than I dreamt about making at the Express in the Virginia Center Commons mall. Now when I sit down at a blackjack table, I know what I'm doing, but that first night with Gavin and those five dollar chips with rock bands on them, I was just an eager student.
We finished the evening with the tasting menu at Nobu, the fruits of Gavin's gambling labors. A perfect end to a near perfect day. I wasn't going to dream about Santa or chainsaws tonight, only tomorrow. And tomorrow we would head towards the Grand Canyon.
Places we loved on this adventure:
Hard Rock Hotel and Casino, 4455 Paradise Road, Las Vegas – Hands down, the best place to stay in Vegas. Lively atmosphere with great bars, restaurants, pool, and decent minimums on blackjack, with plenty of video poker and dancers on the tables late night. Need I say more? Middle of the road.