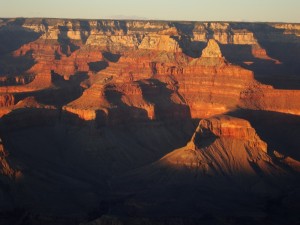 The Grand Canyon could be considered the exact opposite of Las Vegas. Like a nature-made set for Cirque du Soleil, it has an otherworldly feel. Like you're standing at the edge of the Earth – if the Earth had been flat after all – looking out into the great beyond.
A few years ago I heard a story about a married couple who'd gone to the Grand Canyon for their wedding anniversary. The husband decided to take a picture of his wife standing near the canyon edge at sunset.
 'Back up a little more,' he said. She edged back a few inches.
 'Just a little more,' he prodded again. And again.
 By now, I'm sure you can picture how the story ends, with the wife tumbling to her death on the rocks below. I thought about this as we looked over the edge at the sun-filled canyon. I wasn't worried Gavin was going to push me in, but I still asked a stranger to take our picture, us standing an appropriate distance from the edge.
 We pulled out of the park and drove east to I-40, unclear on where we would stop for the night. We resisted the overhyped temptations of the Meteor Crater, but decided to pull into Petrified Forest National Park outside Holbrook, Arizona to see the Painted Desert at sunset.
The pink and white striations of the rock glowed with the setting sun, and Gavin and I found ourselves speechless yet again at the natural beauty of the Southwest landscape. At least my lack of speech was connected with the view. When I looked over at Gavin, I realized his look was more pain than awe, his skin glistening with sweat.
'Are you okay?' I asked.
Too late. He had already taken off for the small bathroom complex located on the other side of the viewpoint. When he returned, he looked only slightly better.
'Let's keep moving,' he said.
Gavin and I had eaten more or less the same foods for the last few meals, and I felt fine. Darkness fell over the highway as Gavin kept his eyes focused on the road ahead. I offered to drive, but I think he appreciated the distraction. With loud gurgles and rumbles, the contents of his stomach went to war with his intestines and I emptied a plastic bag to have on hand, should any of the troops decide evacuation the best strategy.
After what felt like light-years staring at the empty road ahead, we pulled into Albuquerque and the first hotel we could find, Gavin spending the night shuffling between the bed and the toilet. Without really knowing it, we crossed a relationship boundary that night. Where the deliberate attempts to hide all bodily functions fly by the wayside because one of you just feels too bad to care. And the other cares too much to notice.
We woke in the morning to what was a beautiful Spanish style hotel right in the heart of the city. We'd been in such a hurry the night before, we could've been anywhere, but this place was nice. Fancy even. We spent the morning soaking up the atmosphere of Old Town Albuquerque, the peppers strung up on the porch fronts, swaying in the easy breeze. Gavin must have been feeling better because he decided our destination for the night would be Austin, and we should eat as much barbecue as we could handle. Google Maps predicted the distance would take 10+ hours, but that didn't factor in Gavin speed.
Our first stop was Lubbock, Texas for brisket sandwiches at Tom and Bingo's. We ate them on one of the school benches lining the inside of the small shack, and unlike other places where they pile the brisket so high there's no way you could eat without a bib, a table covered in newspaper, and someone to pull clean-up duty when you can't force down another bite, the sandwiches were perfectly-sized and moist, tender, delicious.
Stop two was a jerky store on the side of the highway. The aptly named Really Really Good Jerky Store was an oasis at the intersection of two tumbleweed-strewn highways, a small stone building housing every type of jerky you could imagine, wall to wall. And free samples. We tried as many as we could without seeming too greedy and bought some of our favorites for car snacks.
 As we neared Austin, we decided to save the mecca of Texas barbeque joints for the next day, and pulled into downtown for a night of Tex Mex and live music. Gavin was feeling much better – all that meat must have done him good – and we bar hopped down Sixth Street, enjoying a lively night with the up-and-coming talents of country music.
Kreuz Market in Lockhart is a real man's barbecue joint. You walk up to the counter and order your meat by the pound, adding a stack of white bread and any sides you might want. But no sauce, this meat does not need sauce. We channeled our inner carnivores and went to work. Gavin had to pull clean-up duty on my woman-sized appetite, but we were proud of the damage we did and walked to the car as meat zombies.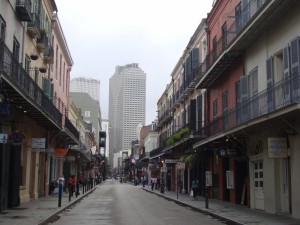 We linked up with the I-10 and headed to New Orleans, where we would complete our Southern food tour. We settled on a budget-slash-boutique hotel on Camp Street and walked into the French Quarter to get the night started. We went to Coop's Place for dinner, a Cajun place on Decatur Street, with the perfect convivial NoLa atmosphere, loud and dimly lit. I honestly can't remember what I ate. Or tried to eat. I had a Sazerac as an aperitif, but then all I could feel was my stomach. I don't know whether I caught what Gavin had or something else, but – out of nowhere – I did not feel well. I forced down a few bites of what I ordered, maybe a jambalaya, and tried to stay positive. I told Gav I wasn't feeling well, but tried to downplay the pain. We were in New Orleans for chrissake! I wanted to show Gavin all the magic of the Crescent City, the places I'd been and loved and some you just had to go once. We left Coop's and I convinced him I'd be fine after a short walk. I tried to focus, will myself to feel better. What happened next has happened on the streets of the French Quarter an impossible number of times. My dinner was rudely rejected by my stomach with an uncontrollable amount of force. I vomited all over the cobblestone street, to the shrieks of a few onlookers.
'I swear I'm not drunk', I said meekly, trying to defend myself. I doubt anyone believed me.
I took a breath and looked at Gavin. 'I think that's all I needed.' I managed a smile. 'I feel much better now. Let's keep going'.
I didn't want the night to end; we had limited time here. So we walked into Pat O'Briens and ordered two hurricanes, taking a seat by the courtyard fountain. But after only a few sips, I was running to the bathroom, emptying my stomach again. This continued a few more times until Gavin forced me to give up, walking me back to the hotel to what would be an all-night puke fest. Another relationship boundary shattered.
When I finally stopped retching, it was the early hours of the morning, and we decided to spend another night in New Orleans and try again. Round two started slow for me, with only a few bites of a po' boy and the desire to stay close to a toilet, but ended strong, with a drink at what could be the oldest bar in the country, the candle-lit piano bar Lafitte's Blacksmith Shop, and the requisite jazz session at Maison Bourbon.
The day that followed held a marathon drive from New Orleans to the Virginia-Tennessee border. We had our sights set on a friend's party in New York in two days and had serious distance to cover.
I-59 runs through Georgia for only twenty miles, their state troopers watching the driversby like bloodthirsty hawks. Not ten minutes after Gavin had uttered the words 'speed trap,' we were being pulled over by a slick Dodge cruiser, going through 'do you know how fast you were going?' routine yet again.
'Please get out of the car, sir,' the trooper said in an ominous tone. This was new.
Gavin walked to the back of the car, as I watched the conversation in the rear view, not being able to understand what was being said. It looked mild enough, but what happened if he got arrested? If the officer looked up all of his speeding tickets, including the one he'd gotten earlier that day in Mississippi? I couldn't drive stick shift. I'd be stuck here. What would I do? Call my mom? I started to panic, when Gavin walked back, opening the driver's side door.
'Excuse me, sir, can you tell me what that is?' The officer asked in a sudden high pitch, shining his flashlight into the side pocket of the door.
My mind raced from guns to drugs to severed body parts. How well did I really know this guy? What the hell was in the car door? My palms were sticky, the hair on my neck pricked in anticipation.
Gavin shrugged, looking into the side pocket and pulling out something the size of a pipe, small and silver. I gasped for air. Here come the handcuffs, I thought.
'A tire pressure gauge,' he said, displaying it to the cop and then me like a model on QVC.
A laugh burst from my lips as Gavin got back in the car, tucking his newest ticket-slash-souvenir into the center console.
'What?' he asked, smiling.
And with that, we had our sights set on New York. With Gavin driving, we'd be there soon.
Places we loved on this adventure:
National Park Service Annual Pass – We didn't buy this for our trip, but to anyone that plans on visiting multiple parks in one trip or one year, I highly recommend it. For $80 it covers the entrance fees to every park and federal recreation area, over 2,000. Gavin and I spent $35 just visiting the Grand Canyon and Petrified Forest. This pass can be a real money saver.
El Rancho Hotel, 1000 East 66, Gallup – A staple of the old Route 66 and a homebase for crews filming Westerns back in the '40s and '50s, this hotel-motel-restaurant has been well-restored and is a great stopping point off of I-40, a couple hours outside Albuquerque. The enchiladas were delicious. Easy on the Wallet.
Hotel Andaluz, 125 2nd Street NW, Albuquerque – A beautiful hotel in the heart of downtown, one of the first built by Conrad Hilton in the '30s and recently renovated. The mix of Spanish tiles and stucco arches fit in perfectly with what you expect from the old Southwest. Middle of the Road.
Tom and Bingo's Hickory Pit Bar-B-Que, 3006 34th Street, Lubbock – I think I could eat one of these brisket sandwiches everyday. If you're in the vicinity, worth the visit. Easy on the Wallet.
The Really Really Good Jerky Store, Intersection of State Highways 153 and 70 south of Sweetwater – The name says it all, this is really really good jerky. Easy on the Wallet (depending on how much you buy…).
Kreuz Market, 619 North Colorado Street, Lockhart – If my description above wasn't enough, I'm not sure what else to say. Some of the best brisket I've ever had. Go soon, and go early. Middle of the Road.
Queen & Crescent Hotel, 344 Camp Street, New Orleans – This is one of those hotels that isn't fabulous, but ticks all the boxes. It's walking distance to the French Quarter, the rooms are spacious enough, there's nearby parking, and unless you're there during Mardi Gras or Jazz Fest, it's going to be less than $100. Not a bad choice. Easy on the Wallet.
Coop's Place, 1109 Decatur St, New Orleans – I wasn't able to really enjoy the food here, but Gavin loved it and has been back on other visits. The jambalaya and gumbo get rave reviews. One of THE Cajun style restaurants in the Quarter. Middle of the Road.
Mother's Restaurant, 401 Poydras St, New Orleans – THE place to get a po' boy in New Orleans. There is always a line but the staff are friendly and the food is worth the wait. They're all good, but the Original with ham and roast beef is amazing. Easy on the Wallet.
Lafitte's Blacksmith Shop Bar, 941 Bourbon Street, New Orleans – Built sometime before 1772, this tavern claims to be oldest continually occupied bar in the United States. Lit mostly by candlelight, I felt like I had walked back in time, listening to live piano music and enjoying a drink in a mason jar. Easy on the Wallet.
Maison Bourbon, 641 Bourbon Street, New Orleans – It's full of tourists, but still a must-do for a New Orleans first-timer. When you're walking by, stop in for a little while. There's something about sitting on Bourbon Street with the doors open, soaking up some really good live jazz. Easy on the Wallet.