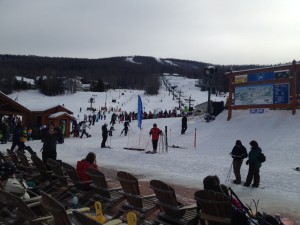 A few weeks ago, I decided to try my hand at snowboarding again. I had spent the week with a cold, and the last thing I wanted was to go back out on the mountain and fall on my ass all day, but if I wasn't going to do it now, when would I? And my dear, sweet husband gave me an ultimatum.
'If you don't come this time, I'll never invite you again,' Gavin said. I knew he didn't mean it. He just really wanted me to learn, and when I pictured us as a family years down the road, with Gavin and kids hitting the slope and me drowning my sadness in apres skis I didn't deserve, I caved. I can do this, I thought. I can take another lesson, try one more time.
When Gavin woke me up at 5:30 am, however, I almost bailed. My bed looked so warm and inviting, it was practically begging me to crawl back into it. But I resisted.
On the road I dozed in and out of sleep, each time waking to check the clock, thankful for the time I had left in the car. Since when did I hope for more time in the car, for a car ride that never ends? I knew then I really didn't want to go, a thought that was verified when I
started praying for a traffic jam or car accident the closer we got to Windham.
Gavin got me set up with the beginner's package then hit the slopes while I waited out the hour before my lesson people watching and trying not to think about how sore I was going to be later. At least I had a butt pad this time.
As the time got closer to 10 am, I put on all my gear, grabbed my board and headed to the lesson meeting point. I took a deep breath and surrendered to whatever was coming. There were no more time fillers, no more delays. It was two hours until I agreed to meet Gavin for lunch. I could make it that far, I told myself.
The beginner's lessons were organized in zones, with instructors scattered throughout. I was shocked by how old some of them were. A few looked about my parents age, in their mid-60s, with outdated hairstyles and accessories that said I 'heart' snowboarding. This was very different than the young, impatient types at Mont Tremblant. I followed the group of nervous first-timers to zone one and met Marty, a spunky older man with a scruffy red beard, gold tooth, and kind smile. Under his tutelage, I began to learn the basics again – which foot to lead with, how to stand on the board – this time in a much easier to swallow format. I practiced boarding over flat ground, attempting heel and toe turns to the left and right, again and again and again. I moved from zone to zone with the encouragement of the Windham team, and by the end of the morning, unlike Mont Tremblant, I felt good. Excited even, to keep progressing after lunch. Did I dare think that maybe I'd be able to go down the entirety of the Woolly Bear slope by the end of the day? Sure, I'd fallen more than a few times, but I didn't feel broken, in body or in spirit. I was a new woman. A snowboarding woman.
I met Gavin at the Legends Bar and Grill on the second floor of the clubhouse. Like many of the kids seated around us, I ordered chicken fingers and fries. And a beer. I'd survived the first part of the day, that was reason enough to celebrate.
Gavin looked at me skeptically, unsure what to do with my surprisingly good mood. I didn't want to scare him too much, so I downplayed my excitement. I told him I thought I could probably make it until 3 pm, but I would stop when I'd had enough.
'You have to stay positive,' he said. 'Keep at it.'
Then I got pouty and played the victim for a few more minutes until the afternoon session began.
I spent the remainder of the afternoon linking heel and toe turns down the baby slope, unstrapping my board, walking up the hill, and doing it all over again. After an hour and a half, I was sweaty but satisfied. I wasn't terrified when the board got a little speed. I was turning! I was linking turns! I was flying through the zones! After a while, the instructors stopped paying attention to me. I'm that good, I thought. What's next? Could I try the Woolly Bear? It was still only a small hill in the grand scheme of things, but for me it was bigger and badder than anything I'd seen. I rode the Magic Carpet 'lift' to the top, where Gavin happened to be looking for me. I had an audience now, I had to give it a shot. I sat down and buckled in, trying to remember what I'd learned. I started slow, a heel turn, a toe turn, the speed picked up and I turned a little too quick, sliding on my butt for a few seconds before popping back up and leaning into another turn. At the end of the slope I slowed to a stop, smiling. I really can do this, I thought. Maybe I should go again?
And then my biggest fan walked up and said, 'Did they teach you that? To put your weight on your back foot?' He looked confused.
'No,' I said exasperatedly. 'I'm trying!' And I stormed off towards the rental return, hiding a satisfied smirk.
Places we loved on this adventure:
Windham Mountain Resort, 19 Resort Drive, Windham, NY – For the experienced skier or snowboarder, it's no Tahoe or Park City, but it's a great place to learn. The people are friendly, the lessons are cheap and fun, even for someone who is borderline terried. And for a beginner, rentals, lesson, and lift ticket is only $89.